Registration will close soon.
MINIMALLY INVASIVE TECHNIQUES FOR THE FACE AND NECK REGION
Master of Applied Medical Aesthetics
Aesthetic Medicine is evolving. Set yourself apart from key competitor with the university course "Master of Applied Medical Aesthetics" that imparts an in-depth, scientifically and methodically high-quality education, which qualifies graduates for further qualification and employment in the field of minimal invasive medicine for the face and neck region. Easy from home.
About the program
By defining and establishing quality standards for all areas of work in aesthetic medicine in both the face and neck region, this program aims to set new standards for minimal invasive treatments, with a high focus on risk management and safer treatments.
In addition to the focus on minimally invasive procedures and treatment techniques, the areas of physiology and anatomy in the context of aesthetic treatments are also taught.
An international committee of recognized specialists from the academic and clinical field ensures the in-depth scientific access and quality. In order to increase patient safety and secure optimal results, a university master's degree is crucial for practitioners in the aesthetics.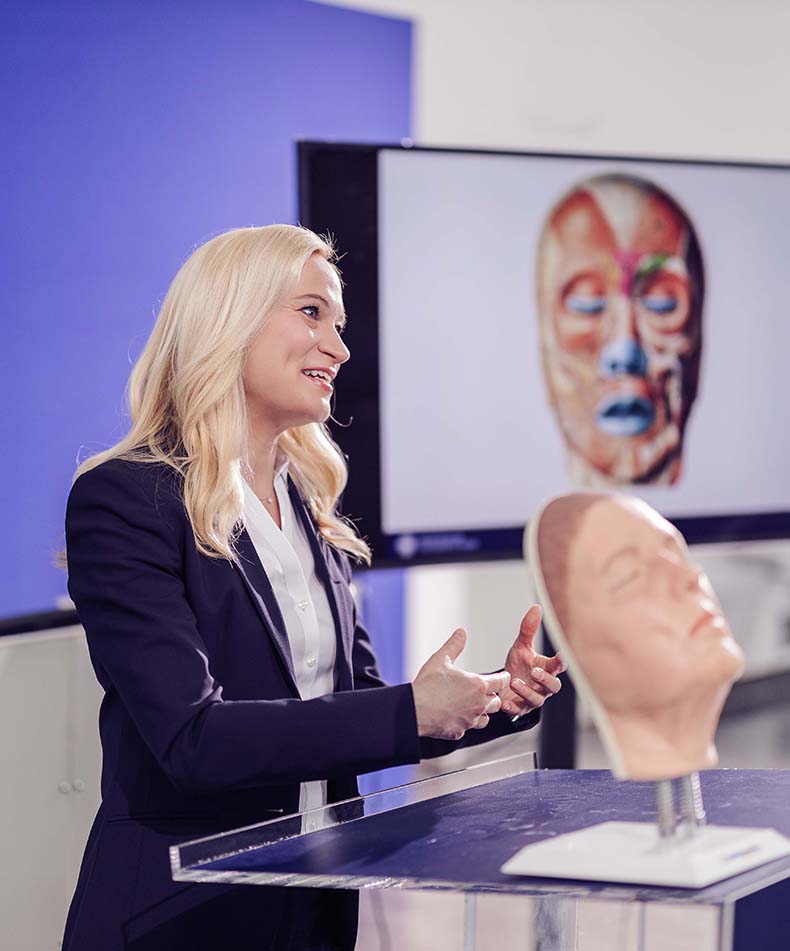 Students graduate with newly defined techniques and values:
Performing aesthetic treatments with a focus on minimally invasive techniques

Work in a clinical setting for aesthetic medicine

Management of an aesthetic practice

Patient management and patient communication with an ethical approach

Knowledge, understanding and assessment of new research and developments in aesthetic medicine

Learn and develop high quality risk management strategies in order to ensure patient safety for all your treatments
Working and studying part-time? No worries.
This university course is structured on a part-time basis to fit into a practitioner´s work schedule. With both distance-learning and self-learning implementations in the course, the schedule is designed to be more flexible than traditional university programs.
Further information
Entry Requirements
2+ years clinical experience relevant to the application of aesthetic interventions
Entitlement to practice medicine independently as a specialist in plastic surgery or dermatology
Tution fees
The total tuition fees amount to 32,000€. This payment can be made through either one installment, four installments or 8 installments, with no interest rate.
32,000 EUR – Paid in one installment
8,000 EUR – Paid in 4 installments (per semester)
4,000 EUR – Paid in 8 installments (per quarter)
Please note that this course does not offer financial aid.
Description of Modules
| | Academic Hours | ECTS |
| --- | --- | --- |
| Module 1-9 | 320 | 54 |
| Module 10 | Internship | | 6 |
| Mastermodule Seminar Scientific work | 200 | 10 |
| Master Thesis | | 19 |
| Defense of the master thesis | | 0,5 |
| Commission final examination | | 0,5 |
| Total | 520 | 90 |
Duration
Total Credits: 90 ECTS
Year 1:
Semester 1 – 3 Modules
Semester 2 – 3 Modules
Year 2:
Semester 3 – 3 Modules
Semester 4 – Fellowship/Research/Thesis
Request more information
You can write us a message if you would like to know more about the application process or would like to just get some more information about the program.
"*" indicates required fields
Apply now
Start your online application process: The following link will take you directly to the form where you can submit your data and documents.